A CoatHook to Benefit
Hearts Alive Village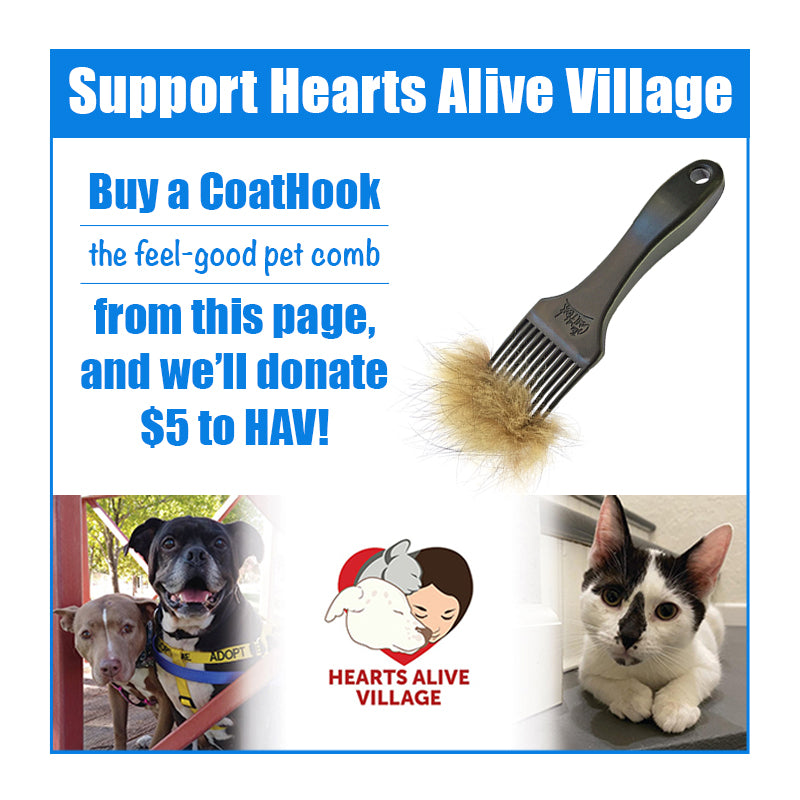 About This Fundraiser
This fundraiser benefits Hearts Alive Village, which has been working with phenomenal success since 2014 to find homes for stray, abandoned, and surrendered cats and dogs in Nevada's Las Vegas valley and to provide owner-support programs aimed at keeping pets with their families and out of shelters.
HAV operates with the philosophy that
Keeping animals in good homes that are having trouble supporting them is better than surrendering, sheltering, and then rehoming them. HAV helps families to keep rather than surrender their pets — it's better for the pets, their families, and the community.
Every animal — whether old, sick, or injured — deserves a chance at a good life.
There's always something people can do to help — If you can't adopt, foster. If you can't foster, volunteer. If you can't volunteer, donate. If you can't donate, host a fundraiser — every little bit helps, and everyone who pitches in is truly part of a village.
HAV provides options and support on various levels for families who come to feel that surrendering their pets to a shelter is their only option for any number of reasons, including behavioral issues, divorce, and financial stress. Here, specifically, is what their work involves:
Operating an adoption center and find homes for stray, abandoned, and surrendered cats and dogs
Offering affordable veterinary services to those experiencing financial hardship through their Hearts Alive Village Veterinary Clinic
Collecting, storing, and distributing pet food through their Kendall's Kupboard food bank
Raising money through their Village Fund to help families pay for good veterinary care that every pet deserves

Providing support through their Charlie Mike Program for veterans facing challenges with their pets
Counseling families who are at a crossroads with their pets
Building backyard shelters to help keep outdoor pets safe
Teaching behavioral classes to improve the relationship between families and their pets
Offering humane education to help children develop empathy, kindness, and engagement toward animal welfare
Operating a pet supply store and boutique thrift store
To date, more than 4,500 animals have passed through HAV's adoption center to find new homes, and more than 5,000 animals are receiving care through their community support and Village Fund programs.
HAV has grown quickly from being an all-volunteer rescue to now employing 25 full-time and part-time staff. Almost 200 active — and greatly appreciated — volunteers support the operation of the adoption center, veterinary clinic, PetSmart location, warehouse, and at events. HAV also is very grateful for the network of foster homes they've enlisted to provide a safe haven for animals while they're looking for their new homes.
We, here at the CoatHook, are so happy to be able raise a few dollars to help Hearts Alive Village while providing their supporters with an extraordinary grooming product.
Funds raised here will support HAV's work providing medical care for pets in low-income families that would otherwise suffer, be surrendered to the shelter, or be economically euthanized.
Thank you for choosing to support Hearts Alive Village with your CoatHook purchase!
About This Product
The CoatHook gathers and removes shedding undercoat fur from cats, dogs, and rabbits without pulling or cutting the outer layers of fur, the way some pet combs do.
The CoatHook's long tines reach through the outer layer of fur, and the small hooks at the ends of the tines gently but very effectively gather and remove downy shedding undercoat fur.
A series of graduated hooks along the top of the tines can be used to gently tease out tangled fur.
The CoatHook works really well on dogs that have coats that shed, such as Labs, Collies, Shepherds, and mixed breeds, as well as medium-long to long-haired cats.
Watch the video below to learn more about the CoatHook and see it in action.
Made in Maine, USA.